| | | |
| --- | --- | --- |
| Dr. Mosaddegh's commemoration ceremony canceled | | |
Dr. Mosaddegh's commemoration ceremony canceled by Iranian authorities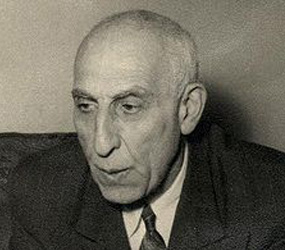 Dr. Mohammad Mosaddegh

The commemoration ceremony for Mohammad Mosaddegh, the late Iranian Prime Minister responsible for nationalizing the Iranian oil industry in 1951, has been canceled by Iranian authorities.

Mizan Khabar, website connected with the Freedom Movement Organization reports that they have been impeded from holding any events at the Ahmadabad castle where Dr. Mosaddegh is buried. The authorities have informed organizers that: "Since the current national conditions are unfavourable and there is a possibility that opportunists may take advantage of the event," they cannot allow the ceremony to take place.

The authorities have called on the Mosaddegh family and the councilors of Ahmadabad to officially announce the cancellation. However, the family has announced that the ceremony
has a personal nature and thus refused to follow the instructions of the authorities.
The ceremony was supposed to take place tomorrow, March 5, at the late prime minister's tomb. Mohammad Mosaddegh, leader of the National Movement of Iran passed away in 1967 at the age of 84. His commemoration services are held annually by the Council of Ahmadabad to which the Mosaddegh family also belongs.

Mohammad Mosaddegh is regarded as one of the most progressive leaders in Iranian politics and respected by almost every faction that supported the 1979 Revolution which toppled the monarchy. However, in the past years, the Islamic Republic has restricted his commemoration services in order to impede the current reform movement from appropriating the late leader's political popularity.
 http://www.zamaaneh.com/enzam/2010/03/dr-mosaddeghs-commemorati.html
*************************************